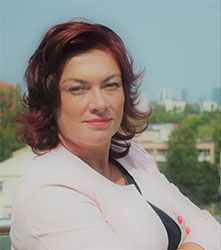 Joanna Bańkowska – President of BDO Technology Sp. z o.o. Sp. K.
---
She graduated from the Faculty of Law of the University of Silesia in Katowice and Katowice School of Managers; she was also granted an MBA degree from Koźmiński University in Warsaw.
From 2008- 2016 she was the Managing Director at BSI Group Polska (British Standards Institution) responsible for eight countries.  Prior thereto , she worked as the Sales Director/Proxy for Update, a company listed on the Frankfurt stock exchange, originating in Austria and a leading international supplier of CRM systems (Customer Relationship Management). She has worked with the following companies: Computerland S.A. (General Director Local Government Sector and Industry Sector Director); IT.expert Sp. z o.o (CEO of the Polish company that provides IT services); Intentia Polska Sp. z o.o. as the CEO of Swedish international supplier of ERP solutions (Enterprise Resource Planning). She started her long-term cooperation with CSBI S.A. (Computer Systems for Business International S.A.) by setting up and running a branch in Katowice that provided services for financial sector clients .
In the following years as the Management Systems Sales Director, she was responsible for sales of management systems in Poland, nominated to serve on the Board and later, as Vice President of CSBI S.A (Computer Systems for Business International).
She is an expert on strategic management and business development in the international environment. She has proven success in corporate restructuring and in the M&A field. She is goal oriented, a specialist in business negotiations, sales and marketing strategies and quality standards.
In her career, she has worked with numerous companies in various sectors: IT and Telecommunications, Banking, Public, Health, Gas and Energy Supply, Automotive and the Food industry- providing advice and consulting services, IT and infrastructure systems, as well as certification and training services.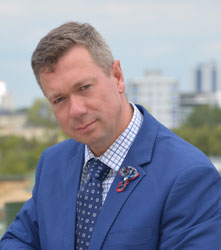 Kamil Galicki Ph.D.– Vice-President of BDO Technology Sp. z o.o. Sp. K.
---
Ph.D. in social sciences majoring in security. Expert in corporate management and business development, public finance law, security, business continuity systems and plans, crisis management, critical infrastructure.
In 2003, he completed post-graduate studies in control and internal audits in public administration. He is an internal auditor certified by the commission operating under the Finance Minister, the main auditor for BS 25999 business continuity management systems. He has participated in many seminars and trainings on practical aspects of managing units of state administration, controls and audits. .
In 1996, he started service with the National Police Service, from 1998 he worked as an official of the Office of State Protection, frequently awarded for his achievements in service.
From 2006 he held management positions (Director of the Auxiliary Services at the Internal Security Agency, then Vice-director, and later the Director of the Administrative and Economic Office of the Internal Security Agency). From May 2010 to December 2014, he served as Vice-Director of the Government Centre for Security where he supervised the following departments: Critical Infrastructure, Strategic Planning and the Administration and Finance Department).
He currently works as a proxy of the Rector of Cardinal Stefan Wyszyński University in the scope of classified information.
He is married, two sons. Enthusiast of long-distance running, hockey, political literature and photography.